News
TIL Receives Silver Award from Japan Society for Artificial Intelligence
2019/06/27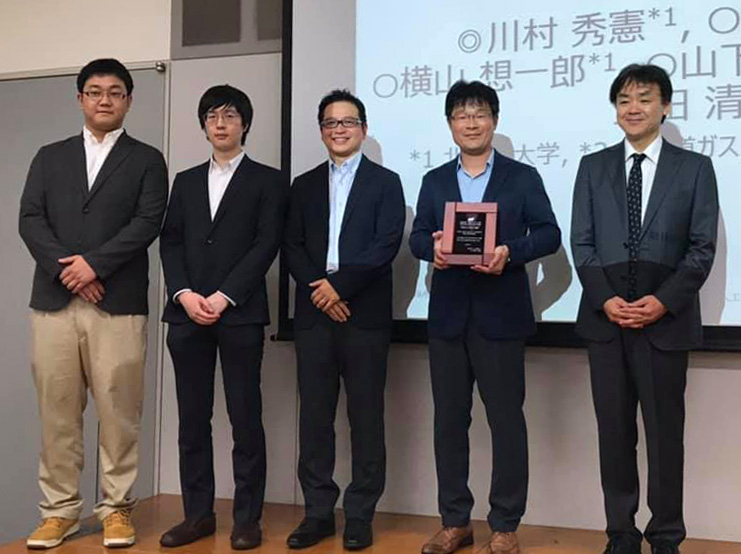 The AI Road Heating Optimizer, developed jointly by TIL and Hokkaido Gas Co., was awarded the Silver Award for Field Innovation sponsored by the Japan Society for Artificial Intelligence.
The award ceremony was held at Keio University Hiyoshi Campus's visitors symposium space, and TIL CTO Hiroya Nagata (Hokkaido University Graduate School of Information Science and Technology, Division of Information Science and Engineering, Harmonious Systems Engineering Laboratory) was on stage to receive the award.
The Field Innovation Award, which is sponsored by the Japan Society of Artificial Intelligence, honors individuals and organizations who have conducted research and development cases which, after deliberation by a committee, have been found to have a profound effect on society through the application of artificial intelligence towards problems in real life and business settings.
For this award, TIL received a silver award for their work with the AI ​​Road Heating Optimizer.
Outline of award
Silver Award
Development of AI road heating optimizer using a convolutional neural network
・ The Award
Road heating is a common solution found in areas with significant snowfall, and usually a boiler is used to heat the road surface and melt snow.
However, there is a frequent problem in that the boiler continues to operate continuously even though the snow may already be melting.
TIL used a convolutional neural network to determine the presence or absence of snowfall taken from images of the road surface, and developed a control device that operates the boiler only when there is snowfall detected, achieving a 40.5% reduction in energy consumption.
Their contribution was recognized for an outstanding practical application of artificial intelligence, and awarded a silver award for field innovation.