News
TiL Inc. On Stage at the 299th "Super City Special" Morning Pitch, in part with Deloitte Tohmatsu Venture Support and hosted by Nomura Securities.
2019/10/07
Using IoT technology to create the next generation of consumer experiences, TiL Inc. (https://tilab.jp/jp/) presented their "AI Road Heating Optimizer" at the "Super City Special" (URL:http://morningpitch.com/theme/17755/) Morning Pitch co-hosted by Venture Support Nomura Securities and Deloitte Tohmatsu.

About the Morning Pitch
The Morning Pitch is a pitch event co-hosted by Deloitte Tohmatsu Venture Support and Nomura Securities, held every Thursday from 7 am to spur business partnerships between venture companies and large corporations. Every week, five venture companies pitch to an audience of approximately 100 people, including large corporations, venture capital and media. Starting in January 2013, more than 250 venture companies have presented as of December 2018.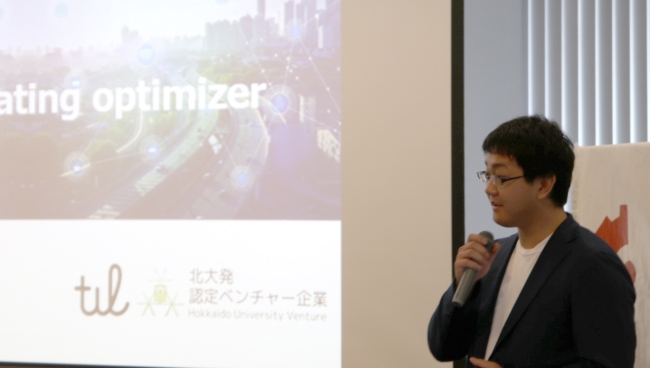 What was Presented
TiL presented the "AI Road Heating Optimizer", which was jointly developed with Hokkaido Gas Co., Ltd. and Hokkaido University Harmonic Engineering Laboratory.

Road heating is a system of heating that is usually installed underground, beneath parking lots, using the heat to melt any snow that accumulates on the surface of the earth. Road heating has been useful in preventing accidents involving slipping on snow and ice, as well as reducing work load involved with shoveling snow.

Maintenance costs for conventional snowfall sensor systems tend to be high, due due to the excessive use of heat sources.
The AI Road Heating Optimizer uses image recognition and deep learning technology to recognize snow fall conditions and control heat sources, optimizing energy costs in areas prone to heavy snowfall.

The results of our extensive testing were made public, together with deployment of the product overseas, and the possibility of additional technology products on the horizon.

■ For more information on the AI Road Heating Optimizer
https://tilab.jp/ai-road-heating-optimizer